Anhui Hechuang

New synthetic Materials Co.,ltd (

HCNS

)

Material

Properties
Polymer Density (ASTM D 1505)
g/cm3
0.935-0.965
Environmental Stress Crack Resistance (ASTM D 1693)
hrs
6000
Carbon Black Content (ASTM D

1603)
%
min.

1.5%
Nominal Sheet Thickness before texturing (ASTM D 5199)
mm
min.

1.27-5%,+10%
Nominal Sheet Thickness after texturing(ASTM D 5199)
mm
min.

1.52-5%,+10%
Material
Compound

of

various

Polyethylenes

and

additives
Texture
Polyethylene strip consists of a multiple rhomboidal indentations, over the entire strip on both sides of

the strip.The indentations have a surface density of 22 to 32 per cm2
Perforations
Polyethylene strip is perforated with horizontal rows of maximum 10mm diameter holes. Cell perforations area is less than 12% of

cell surface area.
Cell/

Section

Properties
Property
Unit
GM330
GM356
GM445
GM660
GM712
Weld

Spacing
mm
330
356
445
660
712
Cell

Depth
mm
75,

100,

125,

150,

200
Expanded(±

3%) Cell

Dimensions
Width
mm
244
259
320
488
508
Length
mm
210
224
287
436
475
Expanded(±

3%) Cell

Area
cm2
250
289
460
1000
1206
Nominal(±

3%) Expanded

Section
Width
mm
2.44
2.59
2.56
2.44
2.56
Length
mm
6.1
6.5
8.35
12.63
13.72
Nominal(±

3%) Expanded

Section

Area
m2
14.9
16.8
21.4
30.8
35.1
Seam

Properties
Cell

Depth
mm
75
100
125
150
200
Seam Peel Strength(EN

ISO

13426-1,Method

B:

Peeling

Test)
N
1065
1420
1775
2130
2840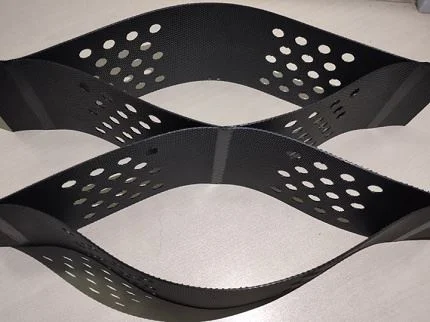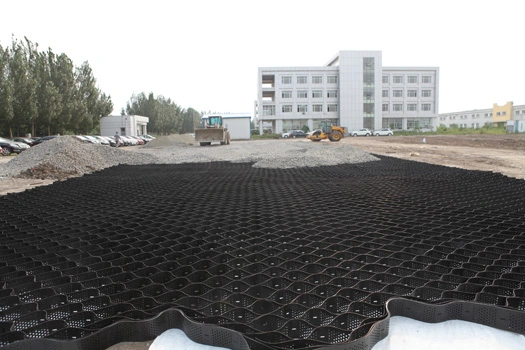 Packaging and Shipping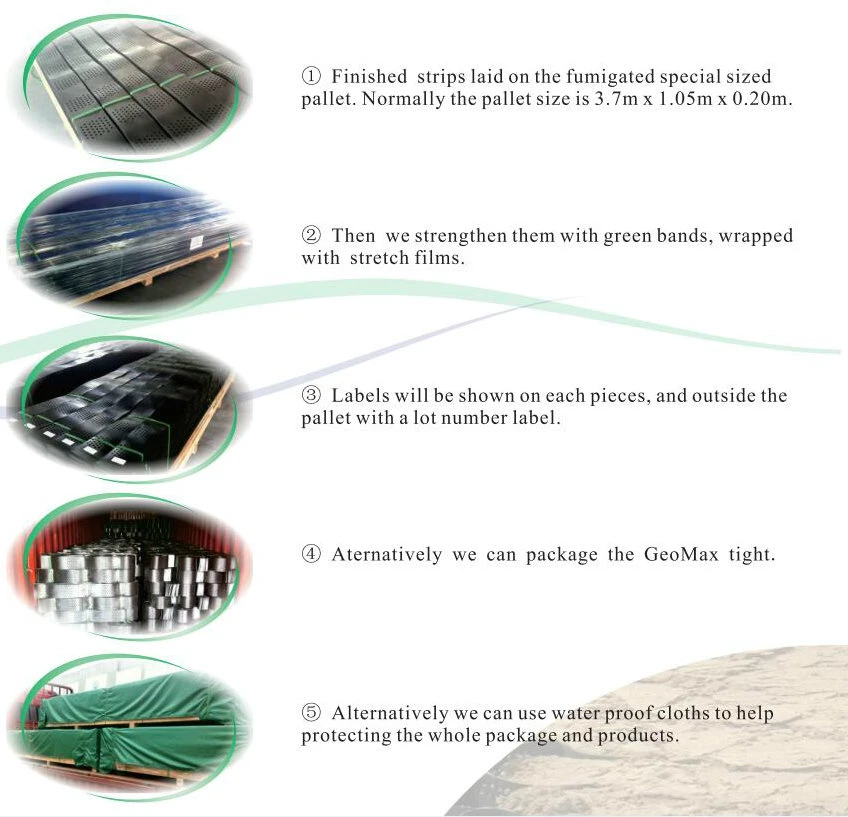 Applications:
1. Used for the stability of railway roadbed.
2. To stabilize the desert highway roadbed.
3. Used in the governace of shallow water channel.
4. Used for the foundation feinforcement of retaining wall.wharf,and levee.
5. For the management of desert,beaches and river banks.







Our service

· The sample is free.
· The quality of our products are qualified.
· Our delivery speed will be the fastest.
· We can provide the most professinal technical guidance and service.

FAQ
1. How about the delivery time?
Lead time: 1-3 weeks on receipt of 30% T/T deposit.
2. What's are the MOQ?
We can according to your condition to set the MOQ.
And we can provide you samples for quality inspection.

3. How to deal with the sample charge?
Samples are free, and we only charge the freight. We will return the sample freight in the furture order.

4. Can you produce the product according to customers' requirements?
Sure, we are professional manufacturer, OEM and ODM are both welcome.

Sincerely Welcome You to Visit Us!