Lead acetate, also known as lead acetate, commonly known as lead sugar.Chemical formula (CH3COO) 2Pb, Mr=325, usually refers to trihydrate, there are also decahydrate and anhydrous.
Lead acetate trihydrate is colorless crystal, white particles or powder, slightly acetic acid smell, has weathering, toxic.Melting point 60-62ºC, boiling point 280ºC (atmospheric pressure), 15ºC solubility 45.6, 100ºC 200.
Used for preparation of various lead salts, antifouling coatings, water quality protective agents, pigment fillers, paint desiccants, fiber dyes and solvents for heavy metal cyanidation.
Physical and chemical properties
three
Lead acetate, white monoclinic crystal, density 2.55g?Cm-3 (25ºC).Melting point 75ºC (hot).Combustible.A slight odor of acetic acid.Having the property of weathering.Refractive index 1.567.It is a covalent compound and a weak electrolyte.Soluble in water, solubility 55.04g/100g water.It is also soluble in glycerol and insoluble in ether.Anhydrous lead acetate was formed from water loss at 75ºC.
Lead acetate decahydrate, white orthogonal crystal, density 1.69g?Cm-3 (25ºC).It is easy to lose water by weathering at normal temperature.Weak electrolyte.Soluble in water, soluble in glycerol, insoluble in ether.
Anhydrous lead acetate, white powder, density 3.75g?Cm-3 (20ºC).Melting point is 280 ºC.Weak electrolyte.Soluble in water, solubility 44.3g/100g water.Insoluble in ether.
In the presence of acetic acid, methyl acetate, lead iodide and carbon dioxide are produced when lead acetate interacts with iodine:
When lead acetate interacts with excessive iodine, carbon dioxide, methyl iodide and lead iodide are generated:
When lead acetate is heated with iodine and water, lead iodide, lead iodate and acetic acid are formed:
When aluminum sulfate interacts with lead acetate, the basic aluminum acetate, acetic acid and lead sulfate are formed:
Basic lead carbonate is formed when a moderately dilute solution of lead acetate is heated to near the boiling point.If the solution concentration is high, lead carbonate will be formed.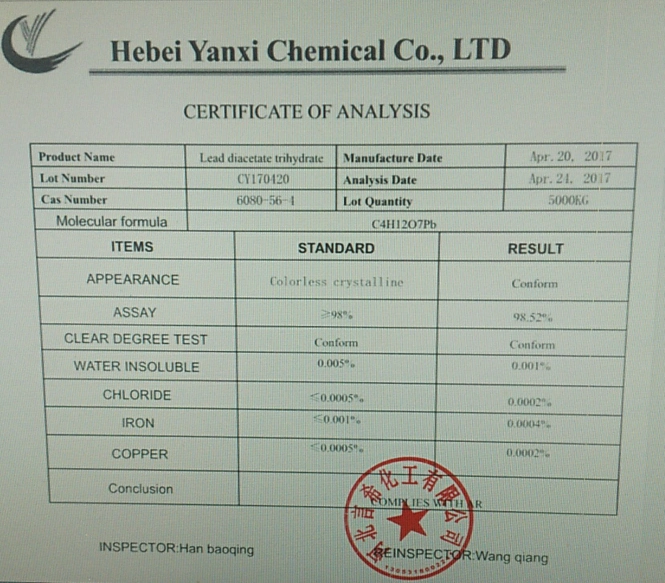 | | |
| --- | --- |
| RTECS: | OF8050000 |
| Hazard Class: | 6.1 |
| Safety Statements: | S45-S53-S60-S61 |
| HS Code: | 2915299023 |
| Packing Group: | III |
| WGK Germany: | 2 |
| RIDADR: | UN 1616 6.1/PG 3 |
| Risk Statements: | R33; R48/22; R50/53; R61; R62 |
| Hazard Codes: | T; N |
Production methods
1. Lead oxide reacts with acetic acid.Lead oxide was dissolved in 80% hot acetic acid until it was dissolved in bubbles, filtered, and then evaporated to a relative density of 1.40 after adding a small amount of acetic acid to the filtrate.Cooling, filtering, drying, lead acetate.The general purity of lead acetate in industrial products can reach more than 98%.After purification, recrystallization of 1% acetic acid solution is available, or lead acetate trihydrate is dissolved in water through hydrogen sulfide, so that lead sulfide and other impurities precipitated together, after filtration, add fluorescent gallium reagent (Co,Al,Cu, etc. Complex agent) in the filtrate, add a small amount of activated carbon, and add EDTA sodium salt treatment, can be very pure reagent grade products.
2. Dissolve lead oxide (II) in 50% acetic acid until saturated.Filtrate, add a little acetic acid in the filtrate, evaporate on the water bath to a relative density of 1.40, let stand, crystal precipitation.Extraction filter, placed between the filter paper drying, pure.Place the product in the air.It can absorb carbon dioxide, ammonia and other gases in the air to produce carbonate or basic salt, which can be purified by recrystallization of 2% ~ 3% acetic acid aqueous solution.100g lead acetate requires 100mL 2% ~ 3% acetic acid solution. After being heated and dissolved, the insoluble substance is filtered out while the filtrate is hot. After the filtrate is cooled, it is allowed to stand for crystal precipitation.Concentrate the mother liquor to half of the original volume, add a small amount of acetic acid after cooling, but also can get part of the product.
3. Dissolve lead oxide in hot acetic acid, after filtration, add acetic acid reaction to the filtrate, and evaporate to a relative density of 1.40.After cooling, the crystals were separated and dried, the pure lead acetate was obtained.
Application
1. The product can be made of various lead salt, anti-fouling paint, water quality protection agent, pigment filler, paint desiccant, fiber dyeing agent, heavy metal cyanide process solvents.It is widely used in the industrial production of medicine, pesticide, dye and coating.It is also a reagent for the determination of chromium trioxide and molybdenum trioxide in chemical analysis.As an analytical reagent, it is also used in biological dyeing, organic synthesis and pharmaceutical industry.
2. Analytical reagent, used for the determination of sulfide, chromium trioxide, molybdenum trioxide, biological staining and organic synthesis.
3. For biological dyeing, organic synthesis and pharmaceutical industry.

Shipping:
@ By Courier: Fedex, EMS, DHL, TNT, UPS, etc. 7-10 days product will reach you after payment received, if it's agreed as ready stock before order.
@ By air, airport to airport
@ By sea




Hebei yanxi chemical co., ltd is a professional research and development of the production of lead acetate, 2-phenylethylamide enterprises.under the innovation in traditional production equipment and technology, the use of "high temperature cooling" and "plastic basin crystallization" technology, on the basis of reducing the cost of products to make the quality of products to the same industry. Under the close supervision of the quality inspection department of the company, we carry out production and sales in the way of "labeling", providing the most convenient and fastest service for users all over the world.
Any inquiries, pls feele to contact us!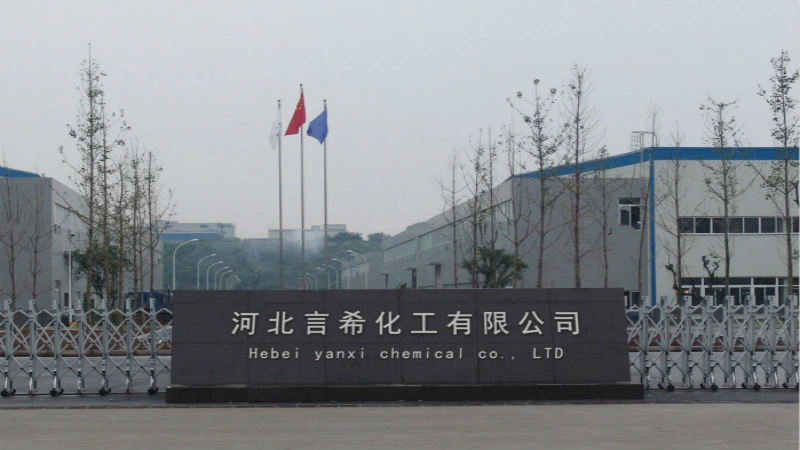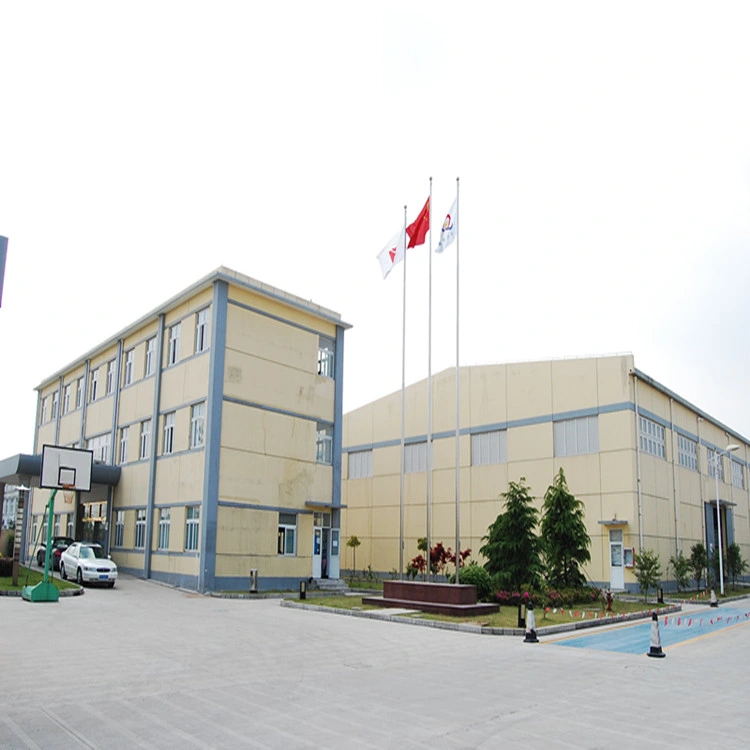 FAQ

QUESTIONS
ANSWERS
Q1:

Are you a factory or trading company?

Yes,We are a factory.

Combined, pls contact us for specicfic product consulting.

Q2:How does your factory do regarding quality control?

We can send you samples for your test and you can visit our factory on the spot.

Q3:What advantages does your company have?

Consistent Quality;

The Most competitive pricing;

Shortest delivery time;

Respond in 24 hours to inquiry, feedback or other requirements.

Q4:Can we replace the package?

Of course. The package can be custom-made. You can provide the pattern or we design for you.

Q5:What's the date of delivery?

In stock, the delivery time is short. Products can be sent out in 7 working days.

If the quantity is large, we will discuss with the client about the duration to be reflected in the contract.

Q6:How long will I get replies?

Due to time difference and holidays, we will try our best to reply you in 24 working hours. If there is anything we can do to help, please feel free to contact us at any time.