Redispersible Polymer powder/RDP
RDP is composed of a special polymers made of powder adhesive after spray drying. This powder in contact with water can be dispersed again soon after forming emulsion, and with the nature of the same as the initial emulsion, namely the film can be formed after the moisture evaporation, the film has high flexibility, high resistance to weathering and on various substrate with high caking property.The powder environmental protection, energy saving, high quality, used for powder materials, dry-mix mortar is an indispensable functional additives.
It can improve the performance of mortar, raise the strength of the mortar, improve the bonding strength of mortar with different base material, improve the mortar flexible and variable line, compressive strength, flexural strength, abrasion resistance and toughness, stick relay and water retention, constructability.
Redispersible Polymer powder is mainly used in all kinds of dry-mix mortar, such as wall putty powder, ceramic tile adhesive, ceramic tile jointing agent, dry powder interface agent, exterior insulation mortar, self-leveling mortar, mending mortar, decorative mortar, waterproof mortar, etc.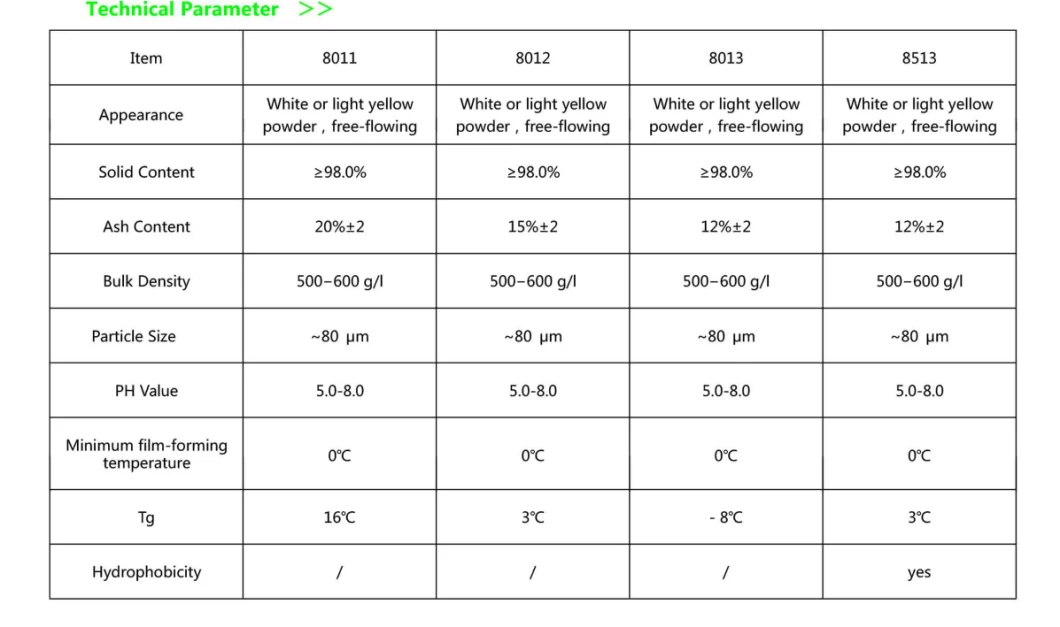 Applications:
Ceramic Tile Adhesive
Tile Grout
Skim Coat
Plastering
Self Leveling mortar
Exterior Insulation Finishing System
Repair mortar
Gypsum Based Compounds etc.